Back then …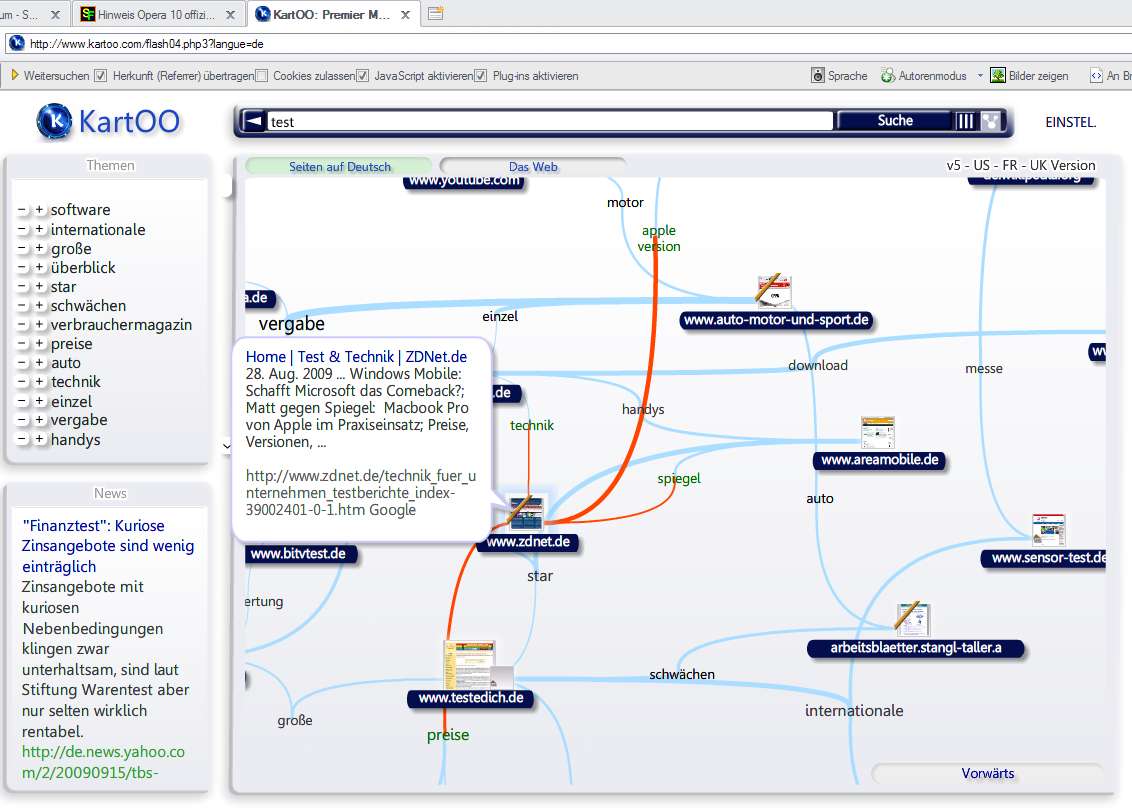 Whenever I knew what information I needed but didn't know which search terms would lead me to this information, you were there and helped me reliably.
I only needed to enter a search term and you showed me a cloud of pictures with lines in between, showing the interlinks with added keywords connecting these pictures. You allowed to hover over one of the pictures to get a short summary of the content of the page.
I could click on one of the terms on the connecting lines and you provided me with a new, refined cloud until there were only 10 or 20 pages left, all of which were filled with very good results.
If I clicked on one of the preview pictures, you opened the page in a new tab in the browser and flagged that I have visited the page in your search window.
Also, it was possible to set which additional information I wanted to have and you even showed me groups of possible search results…
Unfortunately, you are no longer.
Why?
I have no idea.
Maybe you were just too innovative for the "I don't have time" searchers who just want quick information tidbits, 1,000,000 hits in 0.23s, who are not interested in the quality of the results.
But maybe you were just too unknown and therefore didn't get any advertising revenue – although I did a lot of advertising for you…
… but what's a single voice against the overwhelming advertising power of the data kraken?
The above eulogy was originally posted February 12, 2010 on my.opera, it is still available in the Web Archive.
The first part of this article is a translated and slightly rewritten version – I am still moaning about its too early demise. I wonder if we will ever see a public search engine like this again.
… and today
Advertising money is what makes the web spin. Cases like the above, where new ideas and technologies were starved to death, maybe without noticing or maybe even deliberately, are still a thing, maybe even more than ever, as we can see with e.g. www.foundem.co.uk which is a vertical search engine. The technology and mathematics behind vertical search engines like those is really amazing, and they can solve problems the usual horizontal search engine suspects like Google, bing etc.pp. can't, but have you ever heard about it? No? I guessed so …
The story behind it?
Read it in this New York Times Magazine article: The case against Google.
Also available in the waybackmachine. Make sure to press the stop button as soon as you see the article content to avoid the paywall redirection on the archived page.
Almost the same happened some years earlier to Cuil – which ironically was founded by some former Google employees.
Side note: Ignore the "criticism" part in the Wikipedia article – Cuil was still new and all new search engines I have ever seen had the same problems and much worse in their early days – yes, Google back then in 1997 too. Been there, seen that.
Not only did they have their own crawler that maintained a gigantic database of web pages, which at that time was about the same size as the ones of Google, Microsoft Search (now bing) and Altavista (while it was still a thing) combined, but beside the usual search result page they had a really interesting and working approach to make results actually digestible:
It was called "cpedia" but in opposition to the well known Wikipedia, it was based purely on their data mining agents which collected information all over the web and – now the really interesting part – wrote executive summaries (backed up with a links so that you could check the sources) in a length of about 1000 words, which were astonishingly well "written", often almost indistinguishable to the work of a human author. If possible they backed up the results with meta data, such as statistics or analytic tools, linked to related videos or images too. This was a great way to get a cursory overview over almost everything you could imagine and sometimes even showed astonishing insights that were really hard to come by otherwise.
What happened to them?
Dead after a few rounds of fund raising and sold to Google (If you can't squash them, buy them?) and because the advertising marked at that time was already taken over by Google, so this kind of business model was no longer viable.