Photoshop belongs to the almost every days tools I use and I admit that I am a keyboard junkie.
Keyboard junkie and Photoshop in one sentence? Yeah – that's hardcore!
I bet that every heavy duty Photoshop user had a moment of "WTF?!!" occasionally while working with keyboard shortcuts because Photoshop has several hundreds of them. Did you notice something?
Yes, even if you use a German keyboard, which consists of at least 105 keys, that is a multitude of available keys, so you have to type key combinations with up to 4(!) key presses (e.g. Ctrl+Shift+Alt+E to merge all layers into a new layer or, an easier combination: Ctrl+Shift+I to invert the colors). Apart from some few people with extra long and bendable fingers, I know nobody who can use any of those without 2 hands. This means that you have to move your hand from the mouse or drop the pen of your tablet, press the keys, grab the mouse again etc. pp. which each time costs you at least 2s extra time (I wonder how many hours I have burned this way).
Some people in Romania (Transylvania – yes, Dracula's castle is nearby, so watch your back for bats) thought that it would be a good idea to ease up the live of the stressed creative people and invented a keyboard that is special tailored for Photoshop. This is what it looks like: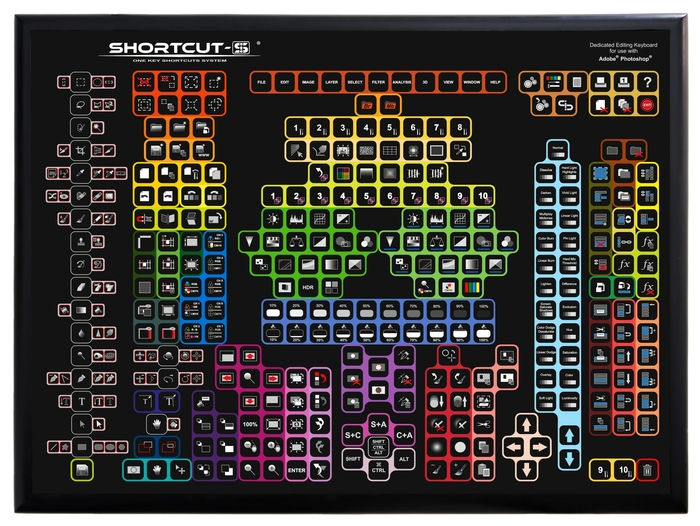 Every shortcut is just one finger-press away. All of them are sorted in logical groups – similar to the menus and palettes in Photoshop to which the keys correspond – and with the fitting icon, so that you see at one glimpse what what key does.
Now comes the bad part: You can not buy it (yet).
It is a kickstarter project – and if it is something you have been looking for for a long time, just head over to support them:
https://www.kickstarter.com/projects/5074048/special-dedicated-editing-keyboard-for-photoshop
I personally would like to use that keyboard too, but my desk is full with what I call "creative chaos" (mostly paper, pens, CDs, phones, …) and a 2nd keyboards would not fit on it, especially if it is as big as the Shortcut-S. They should really think about integrating a standard mechanical keyboard with MX-blue switches (or better: those of the IBM Model 2 – buckling springs are still the best, so keep on click-clacking :D) at the bottom too …
… but may be I find someone who builds me a dedicated desk for that – or I'll do it by myself. Who knows …
PS: This is no advertisement. I am not affiliated in any way with that project, I only thought that it could be fun to have or useful for some people.